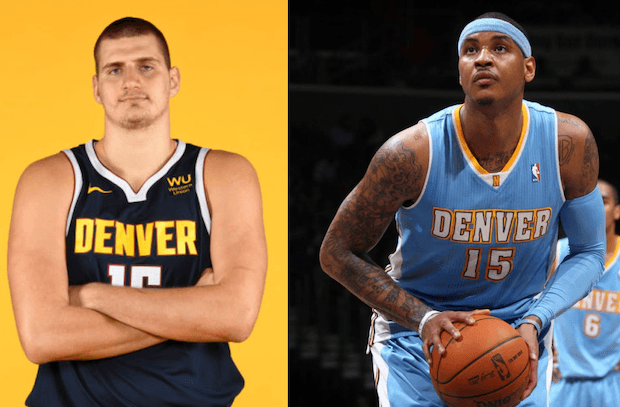 There's a slew of NBA novelty bets for the Finals. But one that hasn't surfaced is odds on whether Carmelo Anthony will have his jersey number retired with the Nuggets, Knicks, both, or neither.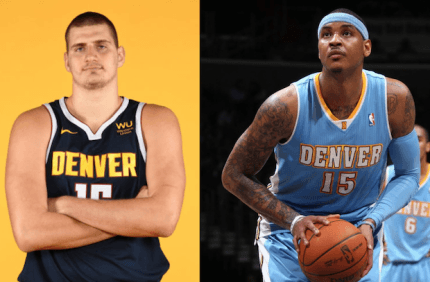 Before the Nuggets' burly center, Nikola Jokic, emerged in his "15" jersey to become arguably the league's best player, odd were if Anthony were to see his "15" jersey rise to the rafters, it would be the Nuggets doing the honors.
Not so anymore, with Jokic now laying claim to 15, and finally landing on the massive national stage of the NBA Finals, displaying his all-court greatness on ABC.
If Anthony gets feted, the Knicks are likelier to play hosts.
The always-polarizing Anthony officially retired on May 23.  A league source told me the Knicks have discussed the matter internally, despite longtime strict requirements for such a distinguished achievement.
That it's been talked about is unsurprising, since the Knicks president is now Leon Rose, and the second-in-command is William Wesley. Rose and Wesley were Anthony's CAA agents when they forced the Nuggets to trade him to the Knicks during the 2010-11 season. SNY-TV also reported a groundswell of support to hang Anthony's jersey in Madison Square Garden's revered rafters.
Where Did Anthony Shine Brighter?
Anthony wore 15 in Denver, but had to change to 7 when he became a Knick. The franchise had already twice retired 15 after it was worn by Earl Monroe and by point-guard pioneer Dick McGuire.
Carmelo did his time in Denver, but he had a truer impact on New York,'' one NBA personnel director said. "Maybe didn't win as much, but if any of the two teams retire his jersey, the Knicks are first."
With Jokic three victories away from Denver's first NBA title in its first Finals appearance, it's become problematic for Anthony and Jokic to celebrate a special night together.
Anthony enjoyed a longer and more successful tenure in Denver than in New York.
Anthony, who didn't attend either of the first two Finals games in Denver's history at Ball Arena, played 10.5 seasons in Denver (2003-2011), making the playoffs every season, but only once reaching the Western Conference finals.
He forced his controversial trade to the Knicks during the 2010-11 campaign. Raised in Brooklyn, Anthony wanted to play for the Knicks when it was no longer chic to be part of owner James Dolan's dysfunctional gang.
"Carmelo Anthony is a champion of New York just by wanting to come here when a lot of people were afraid,'' the league executive said. "Kevin Durant and Kyrie Irving did not want to deal with New York media and scrutiny of being in New York as a Knick.''
Melo's Knicks Bust
In seven Knicks seasons, Anthony never led the Knicks out of the second round. Anthony's Knicks failed to make the playoffs during his final four seasons there.
Anthony's tenure was a mixed bag, and I covered almost every one of his games live as a Knicks beat writer for the New York Post. Anthony's clutch shooting percentage (shots in the final five minutes of a 5-point game) was substandard. He lost his Denver tag as the game's best closer.
Anthony did set the Knicks/Garden scoring record with a 62-point night vs. Charlotte in 2014, but that's the issue. It was more about points than playoffs and leadership. Anthony, too, forced a trade out of New York in 2017.
Why Aren't More Knicks Numbers Retired?
The unofficial Knicks policy is that only champions have their numbers raised to the rafters, save for Patrick Ewing (33), the greatest Knick of all-time, and McGuire.
Others who had their numbers raised were part of the 1970 and 1973 championship teams: Walt Frazier (10), Willis Reed (19), Dave DeBusschere (22), Bill Bradley (24), and Dick Barnett (12).
Carmelo proved to be one of the most devastating offensive weapons in Knicks history but the honor of having a jersey number retired has traditionally been reserved for NBA champions, tremendous longevity, and the absolute elite,'' former longtime Knicks Publicity Director Jonathan Supranowitz said.
Bernard King (30) and 1950's/60's star Richie Guerin (9) long campaigned to have their Knicks jerseys retired, as both are in the Hall of Fame.
Anthony, who won an NCAA title with Syracuse, is certain to be named to the Hall of Fame, too, when eligible in two years, as he's ranked ninth in points. That might be where the honors stop.
But the varying opinions on Anthony will never stop.
Earlier this week, knick-killer Reggie Miller was a guest on the "Dan Patrick Show" on FoxSports radio. Miller said Anthony's number should be retired in New York, to which Patrick scoffed: "You had more impact on the Knicks than Carmelo did.''
And then there's this rosy perspective.
"If he waited as a free agent, the Knicks would've won the championship,' the NBA executive said. "They gave up a lot to get him. He was the lone soldier. He came here and carried them. But he needed help.''
The post Carmelo Anthony's Denver Nuggets/New York Knicks Jerseys Debate Rages On appeared first on Casino.org.