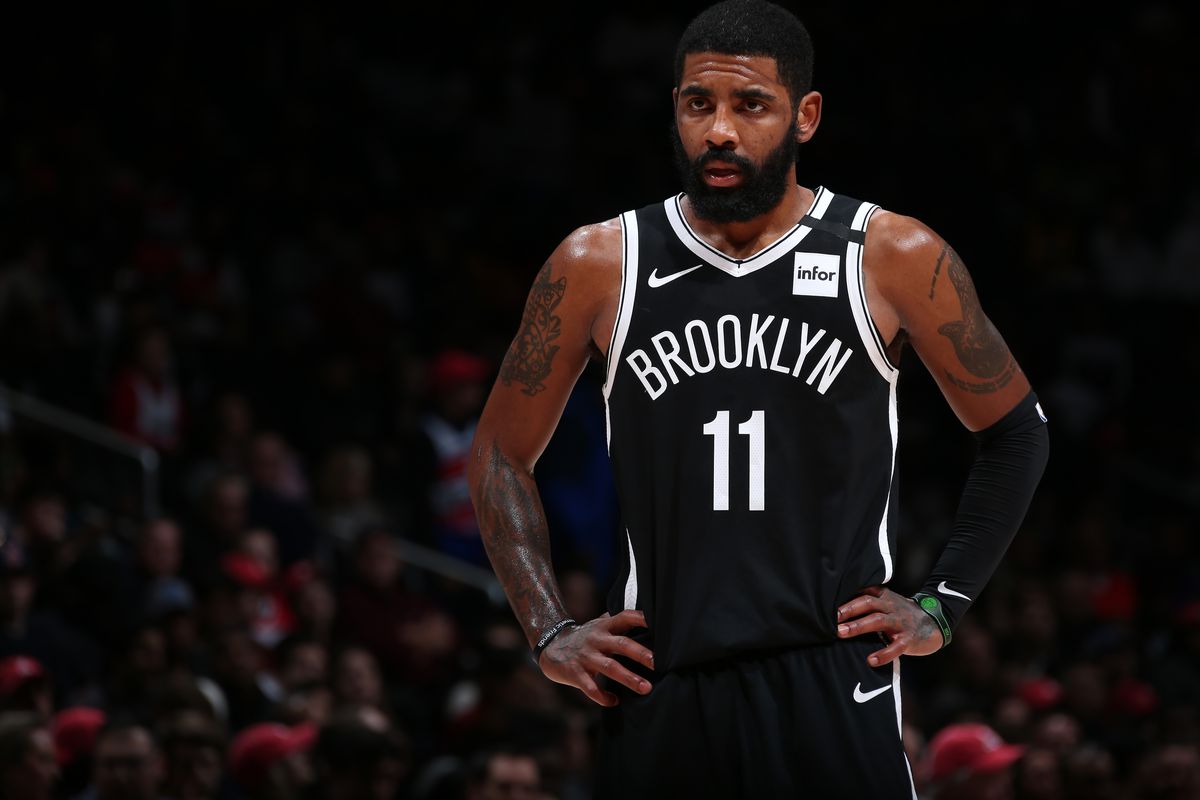 The Brooklyn Nets had a quality win last night on the road in San Francisco, defeating the Golden State Warriors 120-116 behind 38 points from Kyrie Irving. They then flew home overnight and will have a couple days off in New York before playing again Wednesday at Philadelphia.
Detroit visits Thursday, and there are three national television games after that: vs. the Knicks on ABC, Saturday, vs. the Lakers on NBA-TV, and next Monday and on the road against Boston on Feb. 1 on ESPN. That's as they try to defeat the Celtics for the first time in three meetings this season.
The Nets will likely not have Kevin Durant back until after the All-Star game, and they are 5 1/2 games back in the Atlantic Division. They are looking up at a powerhouse Boston team that has the NBA's longest winning streak, nine games. They are probably not winning the division, but …
With a lot of teams looking for wings, Jazz G Malik Beasley is getting very popular ahead of the @NBA trade deadline, according to league execs. @BrooklynNets? @MiamiHEAT? @cavs? @Bucks?
"You are going to have to overpay," @HeavyOnSports was told. More:https://t.co/XkBIrRgWfl

— Sean Deveney (@SeanDeveney) January 22, 2023
Yes, the NBA trade deadline is 17 days away, and rumors are going to be flying. Teams that are sellers include the Jazz, Raptors, Hornets, Trail Blazers, and Pistons, which leads us to remind everyone that it is not important what your team looks like in late January. It matters what your team looks like heading into the playoffs in April.
The NBA regular season is an 82-game slog, and the expanded playoffs with play-in games eliminate only 10 of the 30 teams. Adam Silver and his army of yes men do not want to hear it, but they have cheapened the regular season to the point that load management and rest nights are taking precedence over competitiveness. Folks are still paying top dollar to attend these games, but who is going to play? That often is a mystery right until tipoff.
From Gambling Standpoint, Best Way To Proceed
If you are betting game lines and over/unders, it is paramount to wait until shortly before 7 p.m. Eastern time to check who is out and who is not. Lines can swing by several points based upon what the books are seeing on beat writers' Twitter feeds, and making game wagers in the morning is inadvisable.
But futures bets? Well, that is where value can be found at this point of the season. And with that in mind, we have three wager ideas that appear quite clear in our crystal ball. And none of them require crossing state lines, which will save our New York metropolitan area readers the $18 now being charged to cross the George Washington Bridge or drive through the Lincoln Tunnel. With the Giants and Jets done for the season, there will be a renewed focus on basketball as New Yorkers await the winter's first snowstorm. That's while tallying the number of their friends who have fled for low-tax states. (That number is approaching 70,000 annually.)
The majority of people who leave New York are working & middle-class.

People don't leave because of taxes ¸— they're leaving because New York is increasingly unaffordable. https://t.co/iPLjycQ1P2 https://t.co/NdyRy0bLHo pic.twitter.com/LtPQtQDtEo

— Monica Klein (@MonicaCKlein) January 12, 2023
Those of us who remain are navigating a sports gambling landscape that could soon change soon.
RELATED: New York Sports Gambling Law Proposal Would Allow More Operators
But for now, there are nine sportsbooks offering a variety of NBA-related wagers, and we have picked out three that make sense long-term. Think of it like playing the stock market. These are investment dollars, with payouts in April or October if all turns out well that will allow you to actually attend a Yankee game when Aaron Judge starts playing baseball again.
What Are These Three Wagers?
Wager No. 1: Cleveland Cavaliers and Sacramento Kings to win their divisions.
The Cavs have played the Milwaukee Bucks four times and won the two most recent matchups, the latest coming Saturday night in a 114-102 victory in which Evan Mobley scored 38 points without making a free throw or a 3-pointer. The Cavs (29-19) trail the Bucks (29-17) by one game, and Milwaukee is letting Giannis Antetokounmpo (knee soreness) take as many games off as he wants. Also, Khris Middleton (knee soreness) has not played since Dec. 15. Milwaukee lacks chemistry, while the Cavs are a young team on the rise that has had winning streaks of 8 and 5 games this season. Milwaukee's longest win streak since opening 9-0 is 4.
The Kings are the NBA's best-kept secret, and are atop the Pacific Division by three games over the Los Angeles Clippers. That big of a lead should translate to a minus line in the division winner futures market. But again, folks are sleeping on this very competitive team. When All-Star Game futures come out, take a flyer on Domantis Sabonis for MVP of the league's annual showcase.
Both teams are +170 to win their divisions. If you parlay them, the payout is +629.
Meet the Mets, Meet The Mets, Step Right Up and …
Wager No. 2: New York Mets to win the World Series (+750).
The oddsmakers have made the defending champion Houston Astros a +600 favorite, and the Philadelphia Phillies, who lost 4-2 in the World Series, are +1800 in a head-scratcher. The Yankees are +700 and the Mets are right behind them at +750, but the Mets made the better moves in the off-season by signing three-time Cy Young award winner Justin Verlander and resigning closer Edwin Diaz. Yes, 1986 was a long time ago, and 1969 was even longer. But all losing streaks come to an end. Steve Cohen's team will be a monster.
Happy #LunarNewYear! pic.twitter.com/XPP7KIqyBV

— New York Mets (@Mets) January 22, 2023
Wager No. 3: Brooklyn to Defeat L.A. Lakers in NBA Finals; Boston to defeat Lakers in NBA Finals
Every Nets fan (yes, both of you) knows that the Celtics are probably the better team, and every NBA fan knows that the Los Angeles Lakers will eventually get Anthony Davis back and also dump Kendrick Nunn and a draft pick at the trade deadline for a championship piece. And LeBron is not aging like a normal human. They are imperfect, but they will deal a precious first-round pick to placate James. And they came back from a 25-point halftime deficit last night and won by 9 against Portland.
At Caesars, there are 364 different NBA championship exactas available, and we chose these two because we believe the East Finals will come down to Brooklyn vs. Boston. We have seen too much of LeBron to count him out, even with is team currently 12th in the West. But they are just four games behind fourth place New Orleans with a whole lot of season left.
At Caesars, Brooklyn over the Lakers is +12500. Boston over the Lakers is +10000. And it is not like the Celtics and Lakers have never met for the championship. It has happened 11 times.
The @celtics defeated the @Lakers in 7 games in the 1969 NBA Finals. Here is a photo from the series of Wilt Chamberlain, John Havlicek, Larry Siegried, Don Nelson, and Bill Russell. pic.twitter.com/5qg3QBaogJ

— John Grigaliunas (@JohnGrigaliunas) January 15, 2023
The post Three Bets For New Yorkers Without Crossing State Lines appeared first on Casino.org.