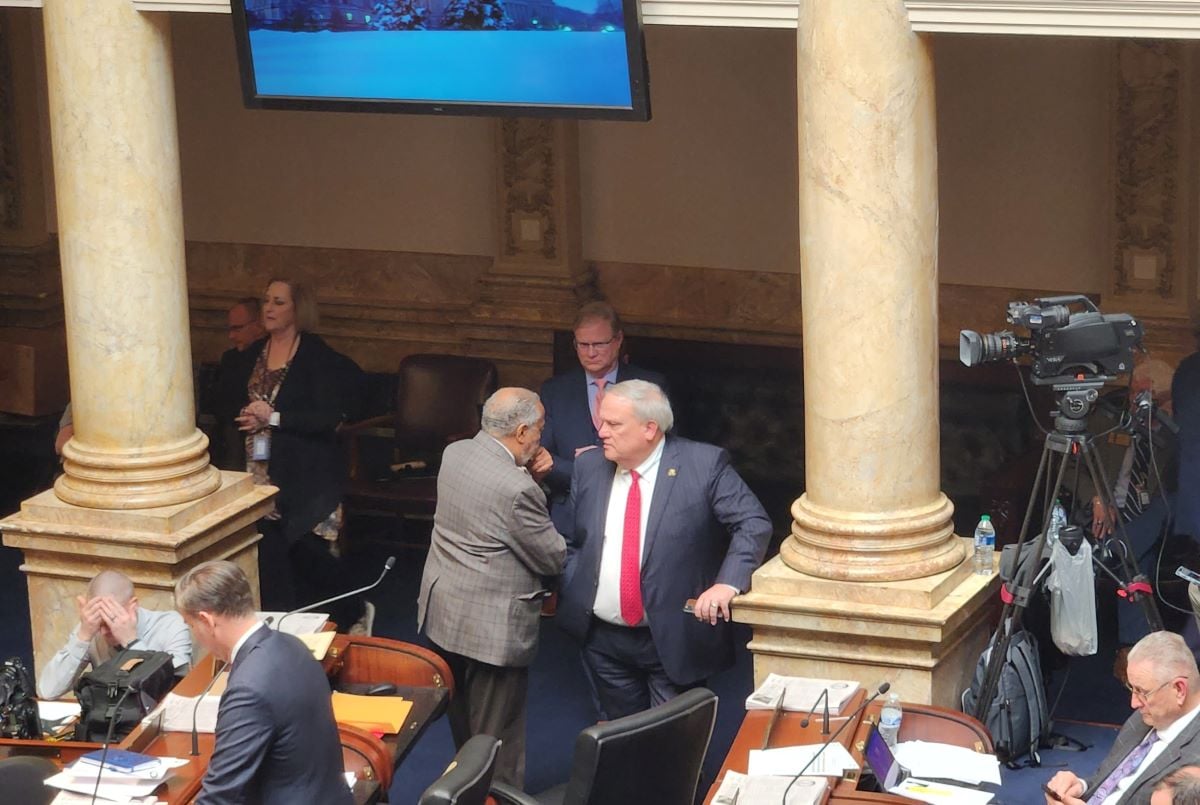 In the end, legalizing sports betting in Kentucky on Thursday came down to politics.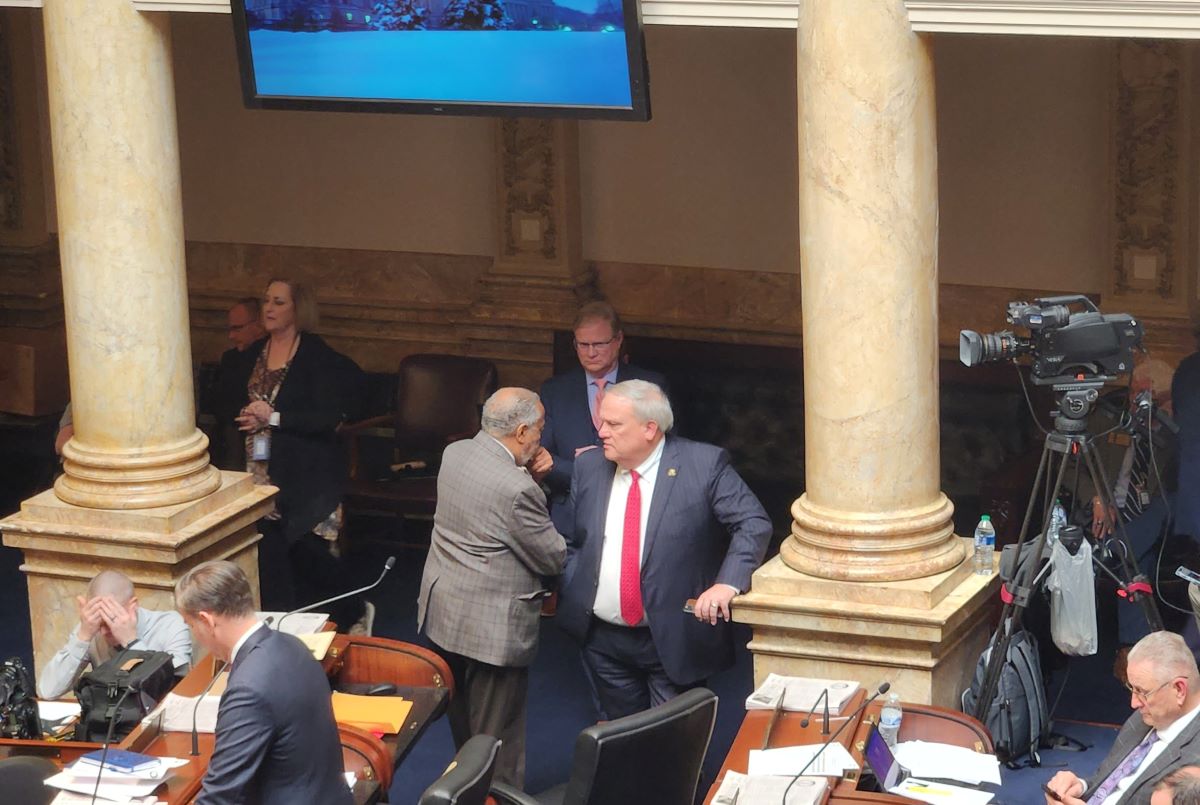 Lawmakers in the General Assembly, seeking to wrap up a few pieces of significant legislation on the final day of the 2023 session, came to agreements to pass sports betting and other issues, including on a bill that reforms how the state will tax bourbon barrels.
Bourbon and betting. That's so Kentucky.
Both bills cleared the chamber early Thursday evening, with House Bill 551, the gaming measure led by state Rep. Michael Meredith (R-Oakland), doing so on a 25-12 vote. It needed 23 votes for passage because of constitutional requirements on revenue-generating legislation in a nonbudget session. As of Wednesday evening, proponents said they had 22 definite votes on their side.
The Senate passed an amended version of the bourbon tax reform bill that needed the House to approve the changes, which it did a couple of hours later.
Senate Majority Floor Leader Damon Thayer, R-Georgetown, said having two major issues like that "coming to a head" led to collaboration and their passage.
Senate President Robert Stivers, R-Manchester, concurred.
When you ask the House what's important to them, what's important to other bills that have to get through, it became evident that there was a lot of support for both bills to move," Stivers told reporters Thursday evening. "And so it's more of a cumulative discussion when we speak with House leaders."
HB 551 now heads to Gov. Andy Beshear's (D) desk. An ardent proponent of expanded gaming, Beshear thanked lawmakers for passing sports betting in a tweet Thursday night and making the Bluegrass State the 37th to do so.
After years of urging lawmakers to legalize sports betting, we finally did it! Today's result shows that hard work pays off. 1/2

— Governor Andy Beshear (@GovAndyBeshear) March 30, 2023
About the Kentucky Sports Betting Bill
The bill allows the state's nine racetracks to host retail sportsbooks at their tracks and satellite gaming facilities. It also gives them the ability to partner with three online operators, meaning the state could have as many as 27 licensed apps.
Tracks will pay $500K for their licenses, while operators will pay $50K. Annual renewal fees will be $50K for tracks and $10K for operators.
The state will tax operators' revenues at 9.75% for the retail books and 14.25% for the online operators. The revenue will cover the KHRC's administrative costs, with 2.5% being earmarked for the state's first problem gambling assistance fund, and the remainder going to the state's pension fund.
The law will take effect in 90 days, although the attorney general will set the official date in the near future. After that, the KHRC will have six months to establish the regulatory framework and licensing processes. That would likely set up sportsbooks to take their first bets, perhaps by the end of this year.
Previous forecasts have estimated the sports betting tax would generate about $22 million annually for the state. Thayer, in his floor speech, said the total might be even higher because of what other states are raising.
Not a 'Big Win' for Kentucky Racetracks
Some have criticized the bill as a sweetheart deal to the horse industry. However, Thayer told reporters after the vote that it was the sportsbooks that were pushing for the bill more than the tracks.
The tracks were more concerned about the gray games/skill games ban that passed the legislature earlier this month, and once that happened, the tracks became more engaged in sports betting, Thayer said.
"They'll be happy to have it," he said. "There will be partnerships worked out with the providers, but it's not a big win for the tracks. It's probably a base hit, maybe a double for them."
Several gaming companies had a presence in Frankfort last year and this year. The Sports Betting Alliance, which consists of BetMGM, DraftKings, FanDuel, and Fanatics, has spent more than $80K since the start of 2022, according to the Kentucky Legislative Ethics Commission.
"We want to thank the Kentucky General Assembly for passing legislation that will bring legal sports betting to the Bluegrass State, pending action from Governor Andy Beshear," said Griffin Finan, DraftKings' senior vice president and deputy general counsel, in a statement to Casino.org. "We look forward to the potential opportunity to introduce Kentucky sports fans to our top-rated mobile sportsbook product."
Sports Betting Tally a Surprise
Meredith and state Rep. Al Gentry, the Louisville Democrat and HB 551's primary co-sponsor, stood off to the side in the chamber as the Senate clerk called the roll.
Afterward, Meredith said he expected they would get 23 or 24 votes, but there was one "real surprise," although he declined to identify that senator.
He described Thursday's vote as a culmination of a movement that's been happening across the country. Not only did 36 states previously approve sports betting, but six states around Kentucky have as well, encouraging thousands of Kentuckians to cross state lines on a regular basis to make their wagers.
Then there was Missouri, Kentucky's only neighboring state without legal sports betting, making progress on their measure.
"We'd truly be an island in and of ourselves … I think people saw that the chips keep falling in that direction, and we'd continue to be an outlier," Meredith said. "Then it just made sense because of all the border states and what we were able to present on all the illegal wagering in the state."
'Take it Off the Table'
Among the surprising yes votes were Stivers and state Sen. Brandon Smith (R-Hazard). For years, Stivers would express ambivalence about the impact sports betting would make in the state, describing the millions it would generate as an "appetizer" in relation to the state's multibillion-dollar budget.
I felt it was time because the votes eventually are going to be there, be it now or next year to pass this," the Senate president told reporters. "The question on the vote total only was because it was an odd-numbered year and needed 60%. Therefore, there were more than enough votes in this chamber to pass the bill. So, go ahead and do it now and take it off of the table."
Smith explained his surprising yes vote on the floor, saying that his district, redrawn after the 2020 Census, changed significantly and included vast support for the bill.
"I have made a pretty hard case against this bill," he said on the floor. "But I will tell you how I come up short. The voters of my new district want to be able to have this freedom."
The post UPDATED: Kentucky Sports Betting Bill Clears Legislature in Session's Final Day appeared first on Casino.org.